Rare and very unique 1999 Baranik Size 0 "42" style appointments, parlor guitar


First, Some Background--Mike Baranik

started making guitars after attending the Roberto-Venn School of Luthiery in 1993. After briefly teaching for the school and working for a Phoenix custom guitar shop, he started Baranik Guitars in 1995. Today Mike handcrafts about 24 guitars per year at his climate controlled shop in Tempe, Arizona.
"Baranik Guitars strives for a simple, elegant style where the beauty of the wood is the visual focus. The models in the line are derived from classic shapes that have been altered and adjusted to improve playability, volume, and tone. Each neck is reinforced with a dual adjustable truss rod and graphite rods for increased strength and sustain."
Immaculate fit & finish and attention to detail are only a few of the characteristics of Mike's instruments. This parlor guitar is a fine showcase of Mike's superior work, and was built to replicate a Martin 0-42.
This beautifully Ornate, true to Martin 0-42 original, Baranik Parlor Guitar is in excellent condition. Best of all, it sounds and plays as beautifully as it looks.
From what I can tell, comparing it to my 1905 Martin 0-28 it is accurate to the Martin 0 size and vintage bracing. The Body is 19 1/8 x 4 3/16" deep, with a 2-piece curved Back. The Lower Bout is 13 3/4".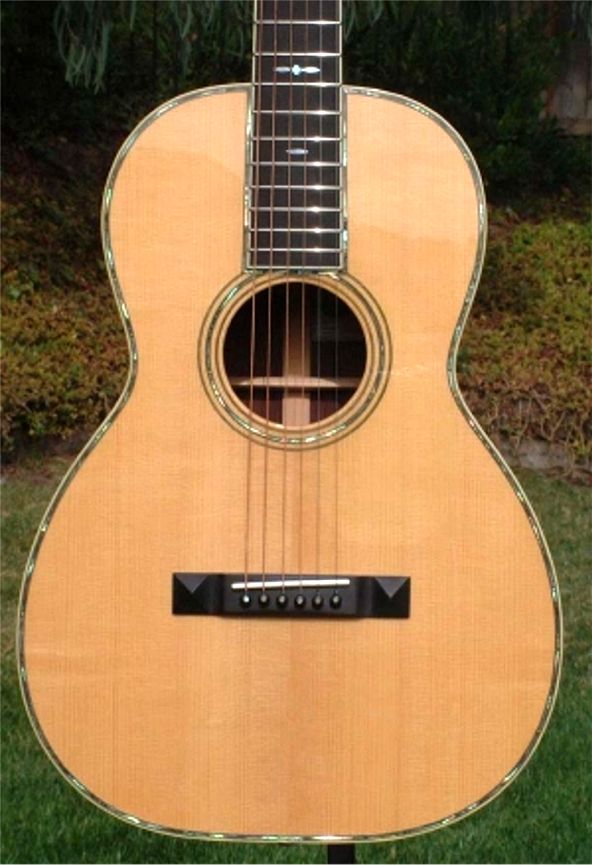 The Solid Adirondack Spruce top contributes to the balanced, clear, sustaining tone of this beautiful guitar. The Indian rosewood is more Brazilian in looks and color, in my opinion. It's a very fine guitar and an unrivaled travel guitar. No issues storing this one in an airplane's overhead luggage compartment. If your flight is delayed...no problem, pull this baby out and watch the hours turn in to minutes at the airport--so cool! The Baggs, undersaddle pickup does a great job amplifying the tone of this guitar, especially handy for unexpected gigs.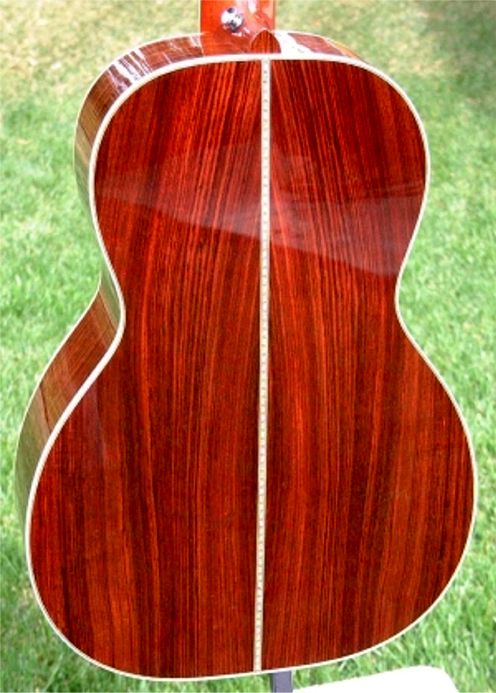 The finish throughout is flawless except for 3 very fine short finish checks near the pickguard. I could not pick these up with a camera, and can only see them in certain lighting conditions--ie., bright reflective sunlight.
The Bridge is the vintage Martin pyramid style, The action is stellar--nice and low with no buzzing--a dream to play. The two-piece Back, though Indian rosewood, looks like beautifully Brazilian.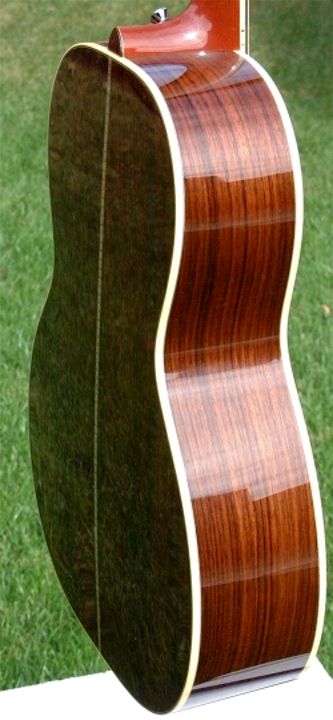 . The Ebony Fingerboard, which is fully bound, measures 1 13/16" wide at the Nut.

The slotted Headstock has a Pearl "B" inlaid at its top. The Tuning Machines, are vintage style nickel Waverlys.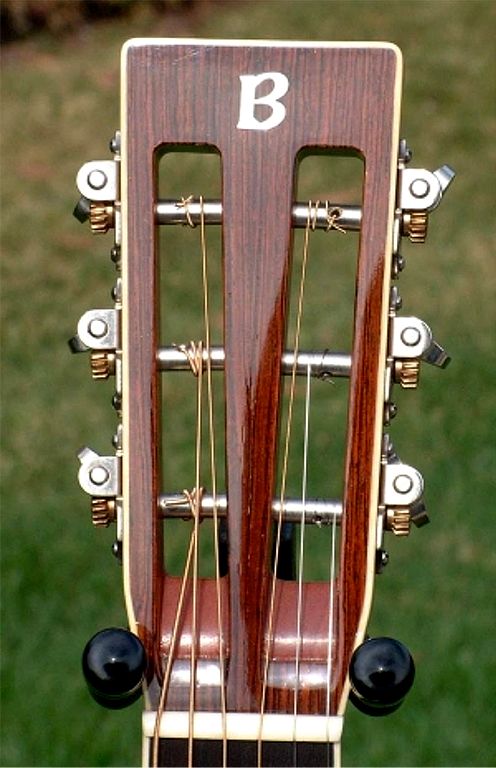 1999 Baranik Parlor Guitar Specs

Indian Rosewood Back and Sides
Adirondack Spruce Top
12 Frets to the Body
Abalone Top Border that extends around Neck on Soundboard
Abalone Rosette
Ebony Fingerboard w/Snowflake inlay at 5,7,9,12 and 15th Frets
Ebony Pyramid Bridge
Ivoroid Bindings on Body, Neck and Headstock
Slotted Headstock w/ Waverly Tuners 1 13/16" nut width; 2 1/4" string spacing at the saddle.
Baggs Ribbon Transducer Pick-up installed. OHSC included