More information on the Keyboard SFX 200 from Musiciansnews.com
Reviews from Harmony Central...
Exclusive From Fender - Fender SFX® Amplifier Technology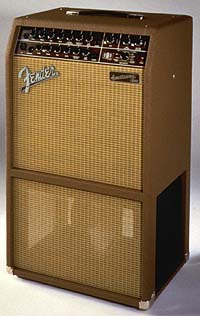 Acoustasonic SFX®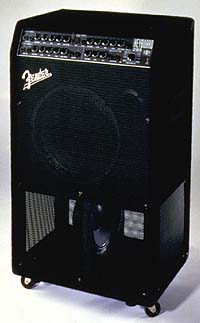 SFX® Keyboard
July 10, 1998 -- Fender Musical Instruments - home to such legendary amplifiers as the Bassman®, Twin Reverb® Princeton® Chorus and Hot Rod Deluxe and DeVille - announces a sonic breakthrough in amplifier technology so original and revolutionary that it will change the way you hear and play live music - forever.
In a traditional guitar or keyboard amplifier, the sound waves project forward, focusing their energy in one linear direction. Even when played in stereo, conventional amplifiers lose their "spread" if the listener is more than a few feet away from the sound source. Now, Fender's new Stereo Field eXpansion (SFX)® technology (patent pending) smashes the sound barrier to immerse performers and listeners in a true surround, psychoacoustic stereo event. Fender's SFX® effect comes alive at any volume, from a near-whisper to wall-shaking levels.
"Besides all the usual issues associated with producing a new amplifier, there were two unique challenges involved in creating SFX," says Ritchie Fliegler, Fender vice president of marketing. "First, our engineers had to develop our own onboard stereo Digital Signal Processing (DSP) technology. Second, the Stereo Field eXpansion matrix - the heart of SFX - needed to be researched and designed. The SFX matrix processes the signal from the player's instrument through one of the 32 stereo digital effect presets onboard the amp. The signals are then sent to the speakers to radiate throughout the performance space with up to 300 degrees of stereo sound imaging. It simply has to be experienced to be believed. I'm sure most of the players who will read this are as skeptical as I was when SFX was first described to me. All I can say is, 'plug in - you won't believe it."
"We've fine tuned our DSP effects to work with the SFX through intense technical developments and research combined with hours of critical listening," says Dale Curtis, Fender vice president of research and development. "Our exclusive blend of stereo and digital signals opens up the sound stage omnidirectionally and provides a world of sound possibilities for performers and listeners alike."
Fender's SFX is now available in three new Fender amplifier models - designed with the performer in mind.
Acoustasonic(TM) SFX® - Amp
For the guitarist / vocalist who wants to intensify the amplified acoustic experience with wide-field sonic dispersion and versatile stereo digital effects, Fender's Acoustasonic(TM) SFX® - Amp brings these features together in a powerful, two channel performance oriented combo that joins the ranks of the acclaimed Acoustasonic Junior. Channel one, voiced specifically for acoustic instruments, features Fender's exclusive String Dynamics control (patent pending) effectively suppressing unwanted high frequency harshness present in many Piezo instrument pickups. Channel two, with its separate tone controls and feedback eliminating notch filters, faithfully reproduces vocal or line level sources completing this performance package.
If the combo's 32 onboard stereo digital presets are not enough, the Acoustasonic(TM) SFX® - Amp also features insert patch points for the addition of external signal processing devices or other outboard gear. Dual 80 watt power amps (160W RMS), SFX Matrix and an innovative 3-way SFX speaker array complete the system. Like all Fender amplifiers, the Acoustasonic SFX is backed by Fender's 5-year transferable warranty.
SFX® Keyboard 200
Designed to free keyboardists from rack mounted mixers, power amps, studio reference monitors and re-hashed guitar amps, Fender's SFX® Keyboard 200 lays claim as the definitive amp for modern keyboard playing. Whether utilizing their keyboard's onboard effects, Fender's 32 specially programmed stereo digital presets, or both, performers will welcome the sonic benefits of Fender's unique Stereo Field eXpansion technology.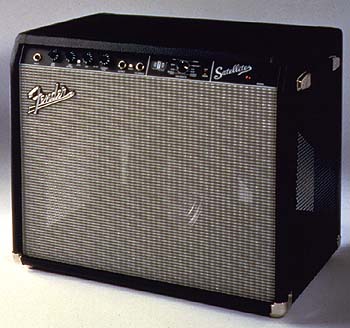 The amp's three channel design features two stereo channels, each with left and right inputs for multiple stereo instrument patching, and a separate lo-Z mono channel for vocal or line level sources. Dual power amplifiers generate 80 Watts per channel (160W RMS) and drive the innovative 3-way SFX® speaker array. Delta Comp(TM) protection, sub woofer line out, line inserts and separate three band channel EQs round out the package, all backed by Fender's 5-year transferable warranty.
SFX® Satellite
With the spatial magic of SFX® players can expand their zone and keep their tone by adding Fender's SFX® Satellite amplifier. The SFX® Satellite will turn any amp with an EFX loop into a complete SFX® stereo system. Get the total range of specially programmed Fender Digital Signal Processing including reverb, chorus, delay, flange and more... plus an additional 80 Watts of power! Features 80 Watts, SFX® matrix and a 12" Fender Special Design speaker. Backed by Fender's 5-year transferable warranty.
Road Tests: Fender SFX Keyboard 200
By Bob Emmett
<![if !vml]>

<![endif]>Keyboard players these days are power-hungry. Let's face it, amplifying keyboard instruments is a challenge. They can produce frequencies to the extremes of the audio spectrum, vast dynamic ranges and massive polyphony. Although improvements in electronics continue to greatly benefit synths and other keyboards, amplification technology simply hasn't kept pace. Laws of physics tend to keep speaker magnets heavy and cabinets bulky. Today's performing keyboardist, seeking the best sound and most practical setup for his instruments, faces a daunting array of compromising choices, from small amp/speaker combos to entire full-range stereo PA systems.

Enter the Fender SFX Keyboard 200. Utilizing a new stereo-field generation circuit from third-party manufacturer SFX (Stereo Field eXpansion) Technology, the Keyboard 200 uses a one-piece amplifier/cabinet design in an unusual way to yield stereo sound (more on this later). The stereo effect can be enhanced by (or, if using a mono input, created by) an array of standard DSP effects including reverbs, delays, chorus and vibrato.

The front panel sports two stereo inputs and one mono input (the latter has an additional, optional low-impedance mic jack) with four-band EQ for each channel and individual effect sends. Insert jacks are provided on the mono channel and one stereo channel. There is a master section with controls for overall volume, effect return and SFX amount, as well as stereo line-level outputs for PA or recording sends. The amplifier section is true stereo, delivering 80 watts per channel into the specialized speaker array.

Inside the cabinet are a 12" speaker, a small piezo horn and a 10" speaker mounted below the 12" and at a right angle to the front of the cabinet. The top half of the enclosure is sealed, but the lower portion containing the side-facing 10" speaker is vented at the rear with black metal screening, and thus can radiate sound out around the cabinet. The whole assembly is covered in black synthetic carpet with black metal grille areas, and weighs 82 pounds. A hotel banquet room with challenging acoustics provided a good testing ground for this amplifier. The unit felt heavier than a typical small keyboard amp but not impossible to carry, and the four detachable casters (included) made most movement a breeze. Unfortunately, Fender chose as "handles" plastic indented inserts on the side which are very difficult to grab; standard metal speaker hand grips would have been a better choice. Also, there's no power-cord-stash area so the AC cable tends to drag on the ground during transport, a minor inconvenience.

Using the amp is as simple as connecting 1/4" instrument cables, turning it on and adjusting volume and tone. I was pleased to note that the cabinet had a pleasant, bright tone devoid of noticeable resonance, and nominal EQ settings produced very musical results. The tone controls were effective and useful. Overall power felt adequate but not extreme; a louder gig might stretch this amp to its limits, although no evidence of clipping was noted with channel and master volume each pushed to around the "8" mark (when will we see a keyboard amp that goes to "11"?). Bass response was a little shy as compared to a 15" woofer cabinet, but there is a line-level subwoofer output for those needing heightened low-end reproduction. The small piezo horn delivered crisp highs without harshness, although frequency response seemed just slightly suppressed in the very top or "air" register.

Turning up the amp's SFX control, however, made it come alive in a truly remarkable way. Sound seemed to be coming from the ceiling, behind the stage--the effect was immediate and dramatic. (It is also dependent on the degree of stereo separation present in the patches being played and has no effect on mono content.) Although it didn't present the image accuracy of true stereo, the SFX circuit allowed patches containing stereo content to sound much more spacious, wide and enhanced compared to a typical single-cabinet amplifier.

The built-in DSP effects are another winner for this unit, and when used with the SFX control can stereo-ize a mono input or enhance existing stereo signal. The chorusing sounded natural, clean and huge without too much pitch bend; the delays and reverbs added space and dimension without the digital "grunge" associated with cheap DSP processing. Only the vibrato disappointed somewhat in that the two fixed speeds are both pretty fast (more like rotating speaker than tremolo). Also, the DSP selection dial uses a round knob with individual detents spaced so closely that it's very difficult to tell where it's set or to redial the setting in a hurry.

Undoubtedly, the Fender SFX Keyboard 200 is a fine amplification choice--especially for the keyboardist who works with pads, orchestral or complex sounds that can really benefit from stereo reproduction. A powered subwoofer would likely be a necessary add-on for gigs requiring key bass or other very low-frequency content, but for most all-purpose live performing, this amp delivers solid sound quality and a clever stereo separation scheme in a reasonably powerful, portable package.
<![if !supportLineBreakNewLine]>
<![endif]>