Hi Everyone,

Man, it's been a long time since I've posted, or read much here. I miss you all, and really wish I could do more. All of my extra time has been involved in planning, preparing, rehearsing, etc. for the responsibilities taken on in our church as Praise Team Leader. It's been an exciting and fulfilling roll, but has also resulted in a redirection in focus--at least regarding the kind of time I used to have to correspond, update my website, buy/sell and test guitars, work on more fingerstyle arrangements and techniques, record and post mp3s, etc.

Anyways, enough about that. I did have the opportunity this past weekend to pay another visit to MAPLE LEAF MUSIC, in Brattleboro, Vermont--Kate Spencer, proprietor. This is probably my 7th or so visit during the past 2 1/2 years, and I have yet to be let down. Previously I have purchased from Maple Leaf a 1930 Martin 00-40 and a Froggy Bottom H-14C koa cutaway. Cumulatively I've spent hours during those visits, playing, comparing (even recommending to customers on occasion) the numerous fine guitars Kate has on the walls.

There's ALWAYS a healthy selection of Froggy Bottom guitars, Martins (new and vintage), Huss and Dalton, Collings, Larrivee, and more recently Bourgeois (I think I have that right--otherwise more recently Collings). At any rate, Kate and staff are glad to gather up a selection of guitars to put around you while you sit and play--great for a/b testing. This trip saw me testing everything Kate had in mahogany, from most of the brands mentioned. Early this year I was stung by the tone of mahogany and adirondack spruce by a Baranik OM style I purchased, so I just had to see if that experience was unique or not.

After playing all the guitars Kate brought me, I had narrowed the field to 2 outstanding favorites--both OM style, one Bourgeois and one Collings.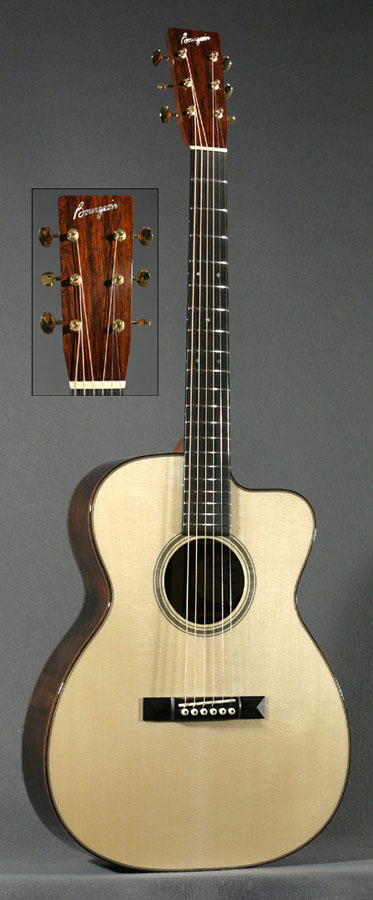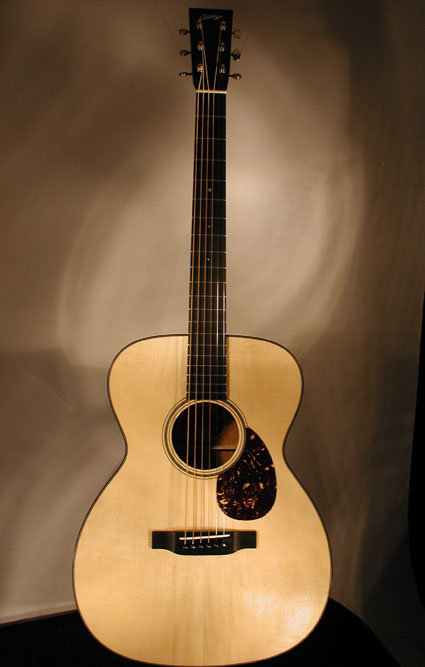 Both were mahogany with adirondack tops (Kate's favorite, and I can see, and hear, why that is). The Bourgeois was a cutaway, the Collings not. The Bourgeois was my favorite until I spent time with the Collings. Both she and I thought the tone of that guitar was unbelievably full and rich. As a matter of fact, it goes down in my book as one of the fullest, richest, long decaying guitar tones I've ever had the pleasure of playing. The guitar had the decay of a fine Brazilian rosewood, while acting in response and clarity like mahogany. Prior to looking at the wood and playing the guitar for a minute, I looked at Kate and said, rosewood right? She gave me that 1/2 smile that told me I'd better look at the back. Sure enough, the darn thing was mahogany--not as pretty grain as the Bourgeois, but prettier sounding, determined by another 1/2 hour or so of playing and comparing the two.

It took everything I could muster up internally to leave the store without the guitar in tow. The battle is not yet over however, as Kate mentioned she might be interested in a trade with one of the previous guitars I purchased from her (or even another). That's what she left me with, and that's what's been haunting me ever since. I really thought I was all done buying guitars for a good while now, but we'll have to see. Kate is definitely someone though, who has been a pleasure to work with. Now to go put new strings on that Baranik of mine which I have loved from day one!

Meanwhile, I guess what I really wanted to say is that if you ever are perusing through the southern Vermont area, be sure and pay Maple Leaf Music a visit--just plan to be there awhile because you are sure to be the old proverbial "kid in the candy store." Certainly you've all heard of the "black hole" one can enter while sitting down with a good guitar, a creative mood, and a block of time...you know, 2 - 3 hours later it occurs to ask yourself, "hmmm, I wonder what time it is?"

Blessings,

Ken T.
_________________
Graceworks Music
"Pilgrim Song" CD South Asia Relief offer...
http://www.justgiving.com/pfp/graceworks