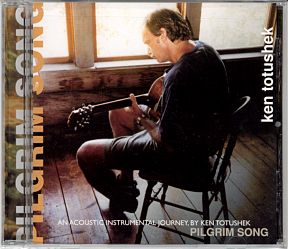 Pilgrim Song...An acoustic instrumental journey, By Ken Totushek
I am pleased to announce the release of "Pilgrim Song." Unlike others I have recorded or produced, Pilgrim Song consists primarily of acoustic instrumental guitar music. The compositions are original, varied in style, and have been born out of my own personal struggles, victories, and search for solace in recent years.
Additional instrumentation from percussion instruments, bass, mandolin and drums is added on many of the tracks as well. A few songs such as "Twilight Serenade" nicely meld in original wildlife recordings in the background. It is my hope that you will find Pilgrim Song relaxing, inspirational, and soothing to the soul.
With September 11th, 2001's atrocious attacks on our country, and a seemingly helpless feeling that so many of us experienced following that, we felt that one small way we could help out is to commit all proceeds from this CD to help provide relief for families and victims of the attacks. That has clearly become an additional purpose for this CD, and we hope you might consider joining us in this effort. The fund chosen currently for this project is World Vision's Tsunami tragedy Fund. Please consider helping support our efforts in this urgent time of need for many South Asian countries and peoples.
Blessings to all,
Ken
Song List and mp3 samples
1) Bliss! (mp3 sample)!—Breedlove C-22 mahogany/cedar guitar with Goodall Aloha Koa/spruce (melody)
2) Twilight Serenade (mp3 sample)—Lakewood Backwater Pro Custom Brazilian Rosewood/spruce guitar, Lakewood Stage Mandolin, Loons from Pierce Pond, Bingham, Maine
3) Rebound— Santa Cruz "H" Koa/spruce custom guitar, bass, percussion and drums
4) Fire and Ice—Santa Cruz "H" Koa/spruce custom guitar
5) Dances in Providence—Taylor 814c rosewood/spruce guitar with percussion
6) Pilgrim Song-- Lakewood Backwater Pro Custom Brazilian Rosewood/spruce guitar, Lakewood Stage Mandolin
7) Pressing On (mp3 sample)—Lowden Jazz rosewood/cedar guitar with percussion
8) What Child is This? (public domain)— Lowden Jazz rosewood/cedar guitar
9) Questions— Lakewood Backwater Pro Custom Brazilian Rosewood/spruce guitar, Lowden Jazz, light synth strings
10) Jennifer--Lakewood Backwater Pro Custom Brazilian Rosewood/spruce guitar
11) Higher Heights (mp3 sample) Santa Cruz "H" Koa/spruce custom guitar, drums, acoustic fretless bass, percussion, mandolin
12) Sabbath Rest (mp3 sample)— Noll Thinline custom prototype mahogany/Englemann spruce A/E guitar, A/E Fretless Bass, percussion
13) Rivers of My Heart (mp3 sample)(written by Jay Steele, used with permission)—Bourgeois OM Luthier Series rosewood/spruce guitar
14) April Breeze (written by Jay Steele, used with permission)—Bourgeois OM Luthier Series rosewood/spruce guitar
15) On Eagles Wings-- Bourgeois OM Luthier Series guitar, Breedlove C-22 Mahogany/cedar guitar, bass, percussion